The Beaulieu Squadron celebrates its 100th birthday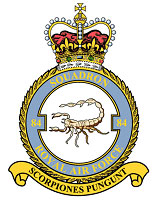 No. 84 Squadron, RAF, was formed at East Boldre on 7 January 1917. The Squadron will return from overseas on 7 January 2017, to celebrate its centenary in East Boldre and Beaulieu.
Beaulieu the 'spiritual home' of 84 Squadron
During its 100-year history, 84 Squadron has been based at 62 different locations throughout Europe, the Middle East and the Far East. Its role has varied between a fighter squadron, a bomber squadron and a heavy transport squadron. Today, 84 Squadron is a helicopter search and rescue squadron based in Akrotiri in Cyprus. It is one of the oldest squadrons and it is the only serving RAF squadron never to have been based in the United Kingdom. For that reason, it regards Beaulieu as its 'spiritual home' in the UK and two of its three Squadron Standards have been laid up in Beaulieu Abbey Church.
Centenary events
Fourteen members of 84 Squadron, along with members of the RAF Association, the Royal British Legion, local Air Training Corps cadets and several local dignitaries, will be at East Boldre and Beaulieu to celebrate the centenary. The event, which has been organised by Flight Lieutenant Peter Towill of 84 Squadron, in collaboration with the East Boldre Village Hall management team, will start with a service at St. Paul's Church, East Boldre, conducted by the Reverend Canon Ray Hubble (Group Captain RAF Retired) and the Reverend John White.
After the service, the congregation will assemble in the churchyard where a wreath will be laid at the war memorial and a bugler will play the Last Post. The Squadron, with the air cadets, will then march with their Squadron Standard, under armed escort, the short distance to East Boldre Village Hall, formerly the WW1 Officers' Mess, for a private reception and light lunch. Guests will have the opportunity to view the exhibition of recently discovered photographs of the WW1 airfield before moving on to Beaulieu Abbey Church to view the 84 Squadron Standards, followed by a reception with cocktails before a formal military dinner in the Domus Restaurant, hosted by Lord and Lady Montagu.
Airfield Exhibition in East Boldre this Sunday
The exhibition of photographs of the WW1 airfield will be open to the public on Sunday 8 January from 10:00 am until 4:00 pm. Admission is free and light refreshments will be available. The authors of the new book, 'From Forest Field to Western Front', which features many of the recently discovered photographs, a full history of early aviation at East Boldre and a brief history of 84 Squadron, will be present until 2:00 pm to sell signed copies of the book or to sign copies purchased elsewhere.