Cry God for Harry, England, and Saint George! St George's Day Special Event!
Cry God for Harry, England,
and Saint George!
St George's Day Special
Mon 23 April 2018 All Day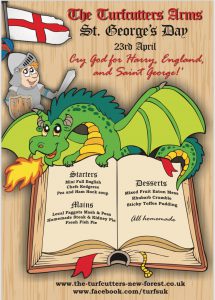 Typical 2 or 3 course "English" menu throughout the day 
Book now!
Live music from 7 pm
Saint George's Day, also known as the Feast of Saint George, is the feast day of Saint George as celebrated by various Christian Churches and by the several nations, kingdoms, countries, and cities of which Saint George is the patron saint.   And by the Turfcutters Arms –  for the enjoyment of our Loyal Locals as well as our New Forest visitors!
For several years now, at the Turfcutters Arms the best pub in the world (in East Boldre) we have felt it very appropriate to host a special celebration of our Englishness!  And if we're going to celebrate a special day like this, it's got to be on the right day – so come along and make merry on a Monday this year!
View menu here!  turfcutters-st-george-2018