Three Day Summer Beer Festival at the Turfcutters
August 18, 2017 @ 11:00 am

-

August 20, 2017 @ 11:00 pm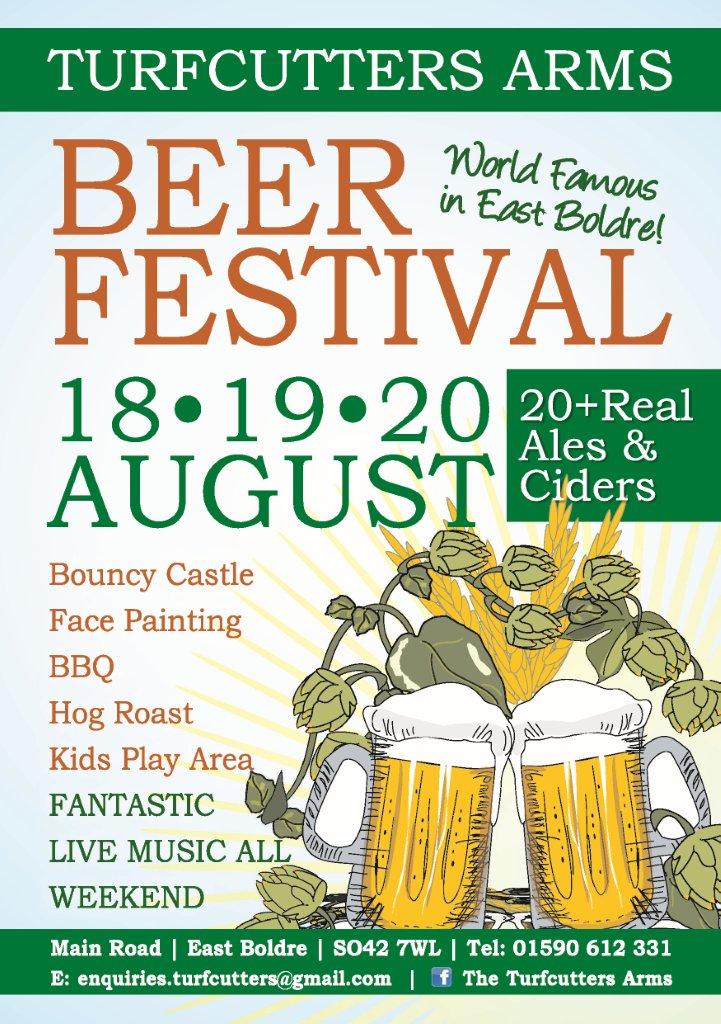 The Turfcutters Arms Summer Beer Festival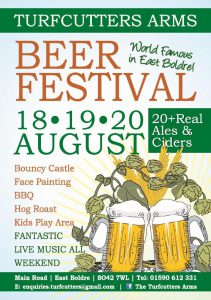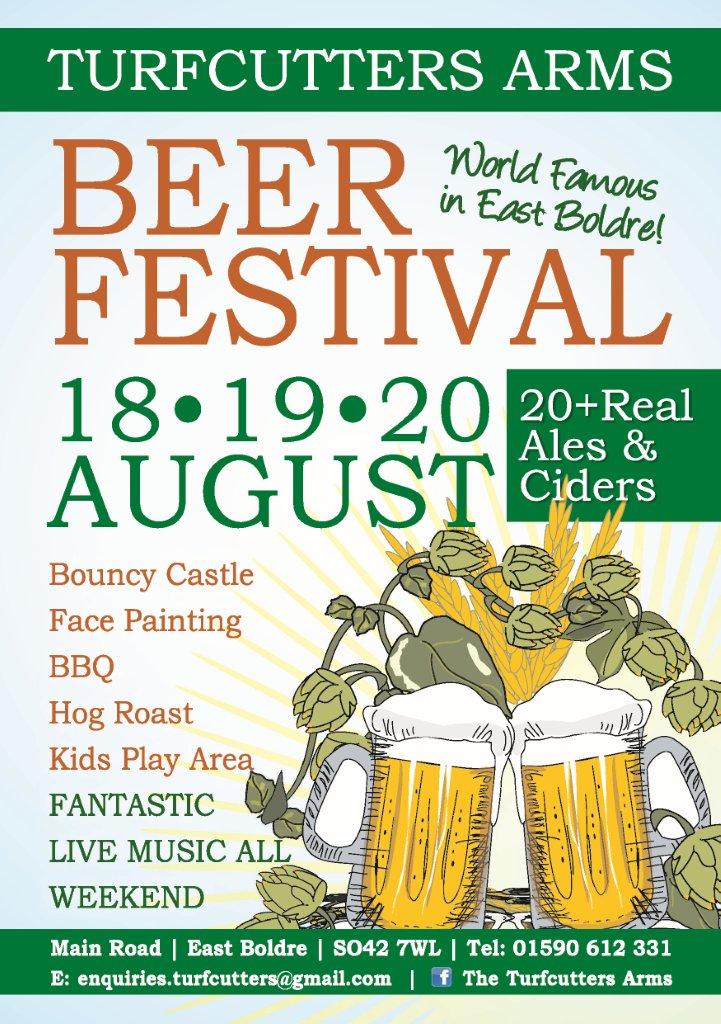 Our Summer Beer Festival is now an established three day New Forest Event!
More than 20 excellent real ales and ciders are on sale in our lovely gardens all weekend long, with great live music going on all day.
There's plenty of hot food with BBQ and Hog Roast.
And there's plenty to amuse the children all day long too – as well as dancing to the music there's the large kids play area, brand new bouncy castle and face painting.
ALL WEEKEND ALES, CIDERS, BBQ & HOG ROAST, CHILDREN'S ENTERTAINMENT, LIVE MUSIC
Large garden – plenty of covered areas and big children's play area
There's a large garden with summer bar and a great big play area for the children.
(There's also plenty of shelter to protect you from whatever the British weather throws at us -although because it rained last year, this time it's got to be glorious sunshine!)
Wide range of ales, ciders, wines, plus BBQ and Hog Roast
Twenty plus lovely ales and ciders for your tasting – as well as the usual excellent range of wines
Fantastic selection of eats for your delectation including BBQ and Hog Roast
Bouncy castle, face painting and fabulous play area for the kids
Well behaved dogs welcome as always (on leads)
There's plenty of parking at the back and along the road – BritStoppers make sure you get there early!
Live entertainment lined up for the whole weekend starting Friday and not finishing until late Sunday evening, a brilliant line up of music – see programme below
Live Music Programme
Fri 18 August
18.30-21.30 Jazz Wran and the Ruby Welts – if you haven't heard Jazz sing before you are in for an enormous treat!
Sat 19 August
12.30-14.30 Ocean Harmony Chorus – it's an amazing voices only choir, in glorious harmony
15.30-18.30 Riverside Blues Band – and late afternoon is THE time to listen to the Blues..
19.00-22.00 Below the Belt –brilliant traditional rock band, with masses of space for everybody to have a good bop, in whatever their preferred style!
Sun 20 August
12.30-14.30 Beaulieu Brass Band – always a treat to listen to the old Brass Band favourites, always with something new in the mix too…
15.00-18.00 Daughters of Davies – two gorgeous girls with acoustic guitars playing happy music, perfect for a Sunday afternoon…
18.30-22.00 Re-Issue – sounds from the 50's and 60's to wrap up the weekend
Beer Tasting Notes
BANKTOP FLAT CAP 4% BOLTON
Pale bitter with citrus aromas hoppy finish
BEARTOWN BEAR ASS 4% CONGLETON
Ruby red malty bitter fruity finish
BRADFEILD FARMERS ALE 3.9% SHEFFIELD
Copper coloured malt ale a floral and smooth aroma with a sharp finish
BUDE SUMMER LEAZE 4.7% CORNWALL
Biscuit and malty flavoured well balanced with fruity notes
HAMMER POT PALE ALE 4.1% SUSSEX
A light golden pale ale with full hoppy flavours
HADRIAN AND BORDER GINGER BEER 4%NEWCASLE
A slightly sweet amber beer with ginger undertones
HIGHHOUSE FARM AULD HEMP 3.8%NORTHUMBERLAND
A traditional ale hopped with fuggles slight malt finish
LYMESTONE STONE THE CROWS 5.4% STAFFS
A rich red to black beer chewy juicy fruit flavours give way to lingering bitterness
MOLES ELMOS FIRE 4.4% MELKSHAM
Medium bodied pale ale fruity spicy aroma
PIDDLETOWN DORSET SLASHER 5% DORSET
A real thirst quencher strong light and blonde beer fruity punch and gentle aroma
SLATERS ALES RASBERRY BEER 4.5% STAFFS
A fruity beer matured with Staffordshire raspberries
ST GEORGES DRAGONS BLOOD 4.8% WORSTER
Chocolate and chrystal malt give a ruby red beer and citrus flavour
THREE CASTLES KING ALFREDS GOLD 4.6% WILTSHIRE
A well hopped golden ale delicately sweet and spicy flavour
PIDDLETON DORSET BENT COPPER 4.8% DORSET
Silky smooth full bodied English strong bitter fresh cut grass aroma
WESTONS ROSIE PIG CIDER 4.8%
THATCHERS "STANS TRADTIONAL 6%
ORCHARD PIG HOGFATHER 7.4%
ALL AT 2 TOKENS ½ PINT
4 TOKENS PINT
ALL BEER SOLD IN PLASTIC GLASSES
ENJOY !!!!!!!!!!