NEWS & EVENTS UPDATE OCTOBER
STOP PRESS EARLY CLOSING SUNDAY 17 OCT
We'll be closing the pub at 6 on Sunday as we're taking the staff out for a well deserved jolly. Last orders for lunch this Sunday therefore at 3pm.
Live Music, Quiz, Curry and other themed nights Autumn and Christmas 2021
Autumn has arrived, the fire is lit, the atmosphere cosy and we look forward to welcoming you all!
Live music is normally from 8.30 until 10.30-11 pm with a break in the middle unless otherwise stated. (Last orders for drinks are at 10.30 pm.)
Quiz nights suggest arrive from 7pm, quiz starts at 8pm prompt
Curry nights start from 6pm, prices on the day
NB We now have Sky Sports, for all the top sporting action.
Fri 8 Oct: Live music with Mark and guests – Mark Williamson well known locally from the likes of the Bushwackers and Jester  brings his own style and that of his talented bandmates
Fri 22 Oct: Live music with Just Jamming – local lads we know well at the Turfs, playing tunes in their own smooth cheeky style
Thurs 4 Nov: Stu's Curry Night  
Fri 5 Nov: Live music with Grizzly – Rhys "Grizzly" Morgan belts out some fantastic gruff soulful sounds from rhythm and blues to his own take on classics
Thurs 11 Nov: PJ's Quiz Night: Quiz starts at 8 so food orders should  be in for then – but you dont have to order food. Quiz costs £2per person, max people per table 6.
Thurs 18 Nov: Themed Beaujolais Nouveau Event: dinner and music
Fri 19 Nov: Live music with Carley Varley
Fri 3 Dec: Live music TBA
Thurs 9 Dec: PJ's Quiz Night
Fri 10 Dec: Live music with Mark and guests
Tues 14 Dec 8pm: Christmas song sheet singalong
Fri 17 Dec: Live music with Just Jamming
Tues 21 Dec: Beaulieu Brass Band Carols
Tues 28 Dec (3pm kickoff): Live music with Just Jamming
Fri 31 Dec: Special Menu followed by some great tunes played live- artist/s to be confirmed; food from 6pm, last orders at 20.30, menu on the board.
TRADITIONAL NEW FOREST PUB
WITH B&B ACCOMMODATION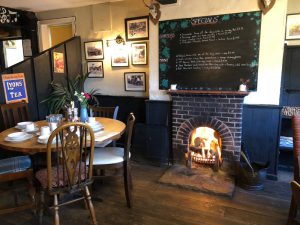 For great pub food and a warm New Forest welcome, come along to the Turfcutters Arms: a traditional pub with bed & breakfast accommodation available in our converted thatched barn.
GREAT FOOD EVERY DAY!
Food served indoors and out daily
In the New Forest between Lymington, Brockenhurst and  Beaulieu, our pub is situated in the village of East Boldre which is literally "on the forest". More than just a pub with rooms, we are one of the few remaining traditional New Forest pubs in Hampshire and are quite famous locally for serving up some of the most outstanding food in the area at very reasonable prices. Including our fantastic value two course lunch and our extensive take away menu.
Click here to view and download our menu on the food page
DOG AND CHILD FRIENDLY
Here you will find a cosy fireside in the autumn and winter, a large sheltered and enclosed child friendly pub garden in the summer, and a warm welcome all year round – your canine companions included as long as they're well behaved.
WITH LOTS OF HISTORY
You will also find oodles of interesting displays on the walls and over your pint can if you will imagine times gone by, because the Turfcutters has also been at the centre of lots of fascinating local history!
From the traditional forest digging of peat to the earliest Flying School and the subsequent pilot and plane participation in WW1, the whole of the local heathland area was then covered with wartime activities in WW11.  The recently lovingly restored "Beaulieu Letters" which showed pilots the way in to land stand testament and are just a few minutes walk from the pub.
LIVE MUSIC AND EVENTS
Which is partly why, in normal times, alongside our ever popular Friday night and Sunday afternoon live music we also like to put on seasonal entertainments which conjure up times gone by in the New Forest.
CONVENIENT NEW FOREST LOCATION
We're only a short drive from Southampton or Bournemouth, so whether you have spent the day sampling the delights of the cities or you've been walking, or cycling, through the beautiful countryside of the New Forest, it makes an ideal place to stop off for refreshment. If you're attending a function at hotels nearby such as The Montagu Arms Hotel in Beaulieu or The Master Builder's  Hotel in Buckler's Hard, do give us a call to see if we provide accommodation for you.
Feel free to contact us, get directions or check out our rooms.