The Turfcutters (World famous) Summer Beer Festival!
Fri 30, Sat 31 July and Sun 1 Aug
This week it's countdown to our World Famous Summer Beer Festival next weekend Fri 30 July – Sun 1 August!
15+ real ales and ciders
Fantastic live music all weekend
Fri 30 July
Zac and the Zeros 6-9 pm
Sat 31 July
Ocean Harmony Chorus 1-2 pm
Jazz Wran and the Ruby Welts 4-6 pm
Jester 7-9 pm
Sun 1 August
Beaulieu Brass Bands 1-2.30 pm
Trav Cats 4-6.30 pm
Food served indoors and out daily
Click here to read our menu on the food page
Live music for the rest of the summer
Sun 8 August: Short Stack n Sides
Sun 15 August 3-6pm: Ed
Sun 22 August 3-6pm: Jester
Sun 29 August 3-6pm: Carley Varley
Sun 12 September: Autumn Market Day
TRADITIONAL NEW FOREST PUB
WITH B&B ACCOMMODATION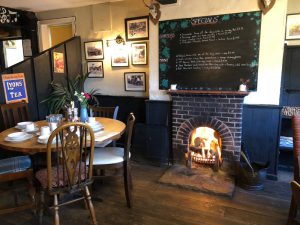 For great pub food and a warm New Forest welcome, come along to the Turfcutters Arms: a traditional pub with bed & breakfast accommodation available in our converted thatched barn.
GREAT FOOD EVERY DAY!
In the New Forest between Lymington, Brockenhurst and Beaulieu, our pub is situated in the village of East Boldre which is literally "on the forest". More than just a pub with rooms, we are one of the few remaining traditional New Forest pubs in Hampshire and are quite famous locally for serving up some of the most outstanding food in the area at very reasonable prices. Including our fantastic value two course lunch and our extensive take away menu.
DOG AND CHILD FRIENDLY
Here you will find a cosy fireside in the autumn and winter, a large sheltered and enclosed child friendly pub garden in the summer, and a warm welcome all year round – your canine companions included as long as they're well behaved.
WITH LOTS OF HISTORY
You will also find oodles of interesting displays on the walls and over your pint can if you will imagine times gone by, because the Turfcutters has also been at the centre of lots of fascinating local history!
From the traditional forest digging of peat to the earliest Flying School and the subsequent pilot and plane participation in WW1, the whole of the local heathland area was then covered with wartime activities in WW11. The recently lovingly restored "Beaulieu Letters" which showed pilots the way in to land stand testament and are just a few minutes walk from the pub.
LIVE MUSIC AND EVENTS
Which is partly why, in normal times, alongside our ever popular Friday night and Sunday afternoon live music we also like to put on seasonal entertainments which conjure up times gone by in the New Forest.
CONVENIENT NEW FOREST LOCATION
We're only a short drive from Southampton or Bournemouth, so whether you have spent the day sampling the delights of the cities or you've been walking, or cycling, through the beautiful countryside of the New Forest, it makes an ideal place to stop off for refreshment. If you're attending a function at hotels nearby such as The Montagu Arms Hotel in Beaulieu or The Master Builder's Hotel in Buckler's Hard, do give us a call to see if we provide accommodation for you.
Feel free to contact us, get directions or check out our rooms.